Looking through the Small Arms Survey's gun stockpile info, I came across some eye-opening stats. http://www.smallarmssurvey.org/de/weapons-and-markets/stockpiles.html …
Takeaway #1: 41% of the world's civilian-owned guns are in American hands.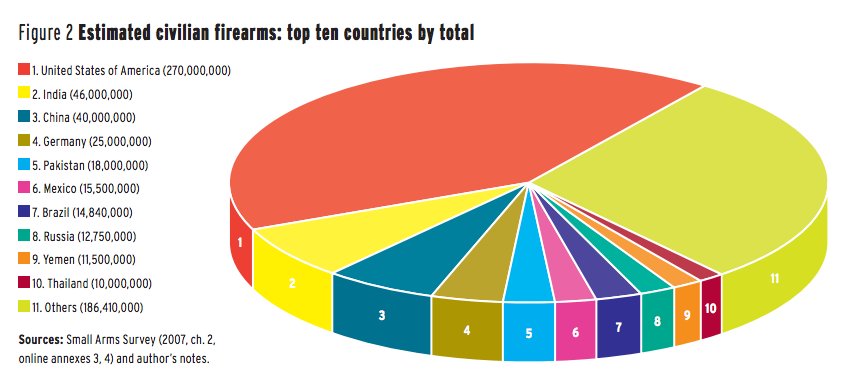 Takeaway #2: In the U.S., civilians possess 70 times more guns than cops + the military.

Takeaway #3: American civilians possess 2½ times more guns than the world's 20 largest militaries — combined. http://www.smallarmssurvey.org/fileadmin/docs/H-Research_Notes/SAS-Research-Note-34.pdf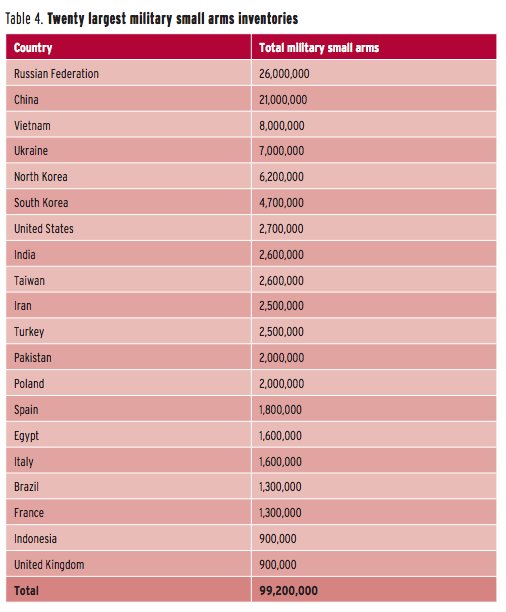 Takeaway #4: Americans own 70 million more guns than all of the world's militaries — combined.

Takeaway #5: American civilians own 11 times more guns than all the cops on earth.

Takeaway #6: American law enforcement agencies are outgunned by civilians 235 to 1.

Jennifer Mascia @JenniferMascia
Tweeted on August 29, 2017
[I think the number of guns in U.S. civilian hands is probably closer to 350 million 400 or 500 million (or perhaps even up to 660 million).
If my experience at matches is any indication private citizens are far better shooters than nearly all police officers and military as well.
At least it's a start.
H/T Glenn Reynolds.—Joe]