The Capital Hill area of Seattle which was occupied by protesters since early June has been retaken:
Seattle police, under orders from Mayor Jenny Durkan, cleared demonstrators out of the Capitol Hill Occupied Protest Zone (CHOP) on Wednesday, after a series of shootings marred the ongoing protest movement.

City officers on bikes and in riot gear — with help from FBI agents and police from nearby Bellevue — began dispersing the crowd at about 5 a.m., authorities said.

Seattle Police Chief Carmen Best reiterated her support for the Black Lives Matter movement, which drove the protests, but said of the weekslong occupation of public streets: "Enough is enough."

"I support peaceful demonstrations. Black lives matter and I too want to help propel this movement forward toward meaningful exchange in our community and meaningful change in our community," Best told reporters. "But enough is enough. Our job is to protect and to serve the community."
None of the reports I have been able to find have been negative. They have been surprisingly, to me, factual. Here is another example:
Police in Seattle have cleared out the city's 'autonomous zone' and arrested over 30 protesters following an executive order from Mayor Jenny Durkan. ABC News reports that the "occupied" zone, which has been dubbed the Capitol Hill Organized Protest area, was cleared by police on Wednesday. The order from Durkan came after four shootings, two of which were fatal, occured in the area within the last month.

"Due to ongoing violence and public safety issues in the East Precinct/Cal Anderson Park area, Mayor Jenny Durkan has issued an executive order to vacate the area," the Seattle Police Department wrote on Twitter. "Seattle police will be in the area this morning enforcing the Mayor's order."
And from Capital Hill Seattle:
UPDATE 9:30 AM: SPD now reports 31 arrests for "failure to disperse, obstruction, assault, and unlawful weapon possession."

There were no significant injuries reported. Around 6:30 AM, SPD said that a woman was reported going into labor on the east side of Cal Anderson Park.

UPDATE 11:21 AM: More arrests and a large police presence was reported at Broadway and Pine after a clash between officers and protesters. Nearby Seattle Central announced its campus was locked down during the ongoing police activity.

Police said officers "enforcing today's order" were wearing "a higher-level of protective gear."

"Police are utilizing this equipment because individuals associated w/the CHOP are known to be armed and dangerous/may be associated with shootings, homicides, robberies, assaults & other violent crimes," the update read.

SPD was also investigating reports of vehicles circling the area with officers reporting individuals "with firearms/armor" inside. The vehicles also did not have visible license plates, SPD reported.
The vandalism and mess are horrendous (from here):
From Joseph Suttner @josephsuttner: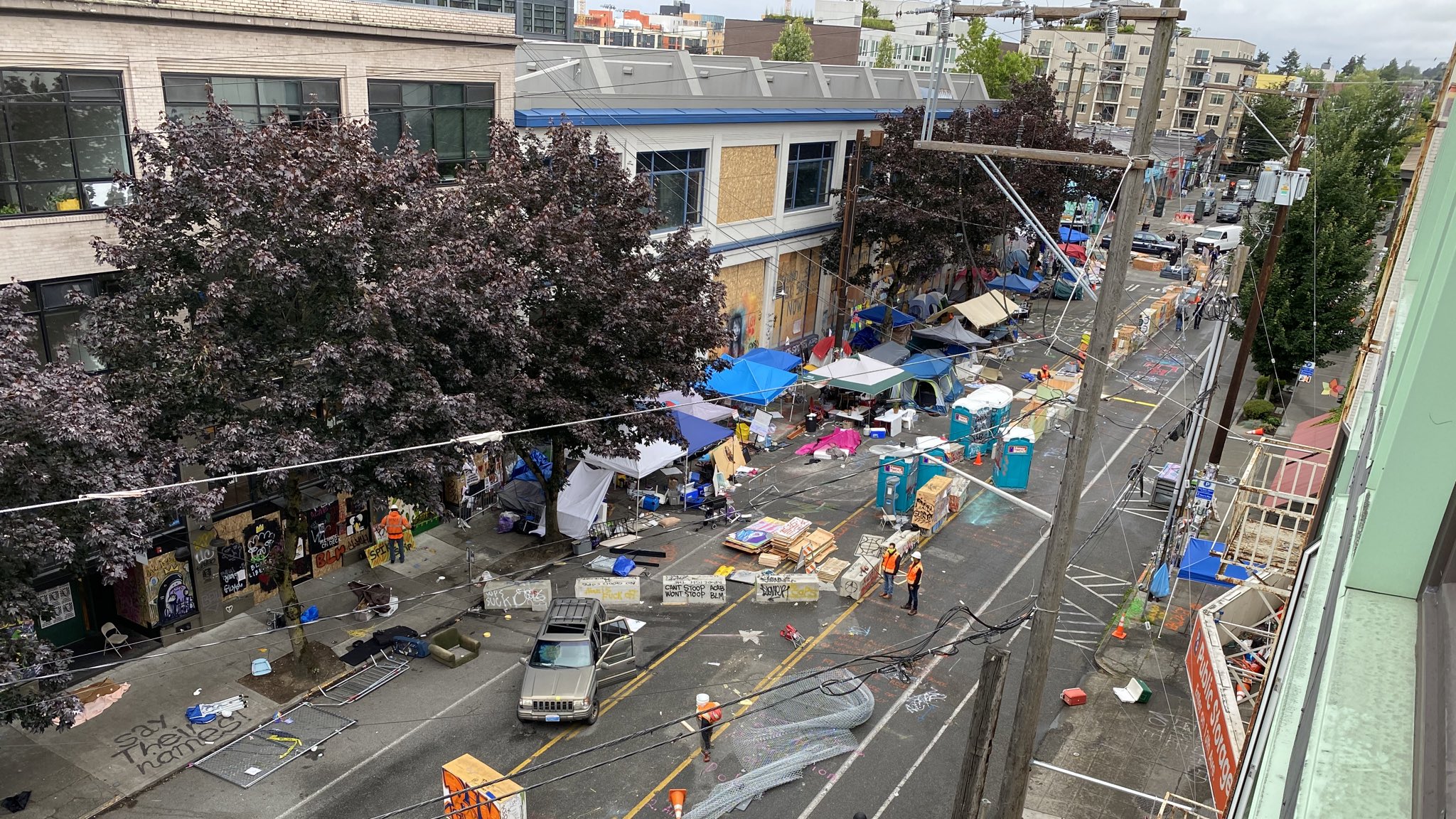 I still think my original suggestion that letting them take over for a while was the correct decision. They didn't disperse on their own like I thought they would. But digging in and getting into a violent confrontation on day one or even day five probably would leave us in a worse situation that what we have now.
The children demonstrated to the entire world and themselves they can't get along without adult supervision. That lesson would not have been learned had the police gone in and immediately "kicked ass". To the best of my knowledge there were no serious injuries during the retaking of the area. The videos I watched showed people passively resisting arrest but there weren't any outbreaks of violence. Had the police gone in when emotions were high private citizens and police probably would have been injured and I can easily imagine there being tremendous property damage.
As I read somewhere a few days ago, paraphrasing, "This is your free sample of socialism."